Truth
Delmark Records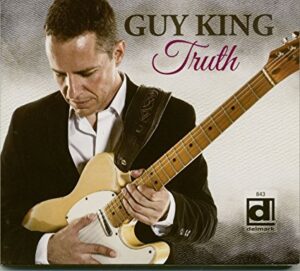 Chicago-based Guy King has released one superb recording with his latest, Truth. Tasty guitar licks abound alongside very soulful vocals. Originally from Israel, King has been capturing many fans over the years for his pleasing take on the music that The Windy City has been known for excelling in, including one Buddy Guy who has deemed King as "a bad man!" Of course, after listening to Truth, it's easy to understand why he receives such accolades.
Dick Shurman served as producer on Truth, and he's certainly no stranger to the best of blues artists, having worked with musicians such as Johnny Winter, Albert Collins, Magic Slim, Robert Cray, and Charlie Musselwhite among so many others over the past forty plus years. He brings out the very best in Guy King who has the range to seemingly emote sounds of the genre from nearly any time frame effortlessly. With maginificent covers by artists like Ray Charles, Johnny "Guitar" Watson, Pee Wee Crayton, Doc Pomus, Percy Mayfield, and well-known songs like "Bad Case Of Love," "The Same Thing That Can Make You Laugh (Can Make You Cry)" or "One Hundred Ways," King clearly shows that he has studied the music and knows how to present it too. His takes are deftly soulful and original, not to mention his own songwriting that he displays on a handful of tracks that stand out on their own as well, with the title number dishing up a little jazzier side to his blues that just scores big time.
This is Guy King's fourth release under his own name, having spent a number of years as guitarist and band leader for the late Willie Kent. Each and every release that King has put out continues to offer just how much he grows as a solo artists while paying heed to those who came before and influenced him. There is no imitation despite the number of material previously released by others. This is fresh and exciting. Guy King is an artist in his own right who needs to be paid attention to. The man is cooking with gasoline and is ready to light the blues world on fire.
Total Time: 1:11:07
The Same Thing That Can Make You Laugh (Can Make You Cry) / Truth / My Happiness / It's About The Dollar Bill / A Day In The Life Of The Blues / Cookin' In Style / See Saw / Hey Now / I Gotta Right To Sing The Blues / There Must be A Better World Somewhere / King Thing / Bad Case Of Love / Something's Wrong / If The Washing Don't Get You (The Rinsing Will) / One Hundred Ways
https://archive.cascadebluesassociation.org/wp-content/uploads/2016/12/Guy-King-CD-cover.jpg
384
425
Buko
https://cascadebluesassociation.org/wp-content/uploads/2020/10/CBA_Logo_top_main.png
Buko
2016-12-27 11:40:37
2020-01-13 19:14:13
Guy King