Blueberries & Grits
Hwy 11 Records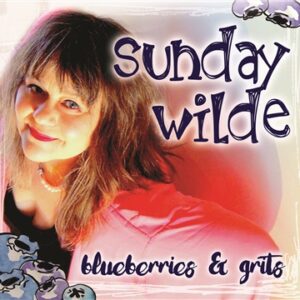 Canadian blues artist Sunday Wilde with her sixth release, takes her down South to the land of the Delta where she has created a nostalgic feeling collection of songs that are truthful and sassy. Recorded in Memphis and Clarksdale with all the acoustic instrumentation, Blueberries & Grits features Wilde's outstanding piano work and sultry vocals. Many of the tracks sound as if you're being thrown back in time as it echoes the classic, timeless feel of bygone early blues.  It's like they could have been taken directly out of a Storyville bawdy house in early 20th century New Orleans with her piano backed by horns, or sitting on a back porch in a scorching sun-drenched Delta day while guitars and washboards bring across the musical patterns.
Sunday Wilde shows a lot of the desires she has toward men in a number of offerings, starting out of the gate with "Show Me A Man." It's a prayer asking for the man of her dreams and she is not too shy to describe exactly everything she is looking for. The theme continues over the course of the first nine tracks, ranging from deftly-crafted originals like "The Man Drives Me Mad" with vocal backing from Watermelon Slim, to covers of Ruth Brown's "Daddy Daddy," Louis Jordan's "Early In The Morning" and Bessie Smith's "Sorrowful Blues." Perhaps the most distinctive cover is Willie Dixon's "John The Conquer Root," which may or may not have been how Dixon imagined the tune being presented. Wilde is not too subtle in her delivery coming across as a potent sexually fired piece. Oh my!
In a different vein, Wilde closes the disc out with a gospel piece titled "Come On In." A song of praise telling of the welcoming arms of Jesus. It is a complete turn-around from the rest of the album, but what a sensational song to end it all with.
The musicians appearing on Blueberries & Grits are all first flight talent. Guitar players Johnny Cass, Dave Fecca, Robert Hughes, Gary Vincent and Sturgis Nikides deliver remarkable stylings. Reno Jack on bass and Ricky "Quicksand" Martin are an ideal rhythm section, with April Mae throwing in rhythms on the washboard. Roger Reupert plays trumpet on a handful and Billy Earheart of The Amazing Rhythm Aces masterfully shines on a J. Estey 1850 Cottage Pump Organ on four tunes. And aside from the aforementioned Watermelon Slim, Mandy Lemons is also on board for back-up vocals. All of these musicians enhance Wilde's excellent vocals and piano work.
Sunday Wilde states that she has always wanted to do an acoustic album. Blueberries & Grits prove that her efforts were well conceived. An outstanding recording start to finish.
Running Time: 37:34
Show Me A Man / Early In the Morning / Momma's Drinkin's Done / That Man Drives Me Mad / Too Many Troubles / John The Conquer Root / Daddy Daddy / Sorrowful Blues / One Of These Days / Come On In
https://archive.cascadebluesassociation.org/wp-content/uploads/2017/02/Sunday-Wilde-CD-cover.jpg
360
360
Buko
https://cascadebluesassociation.org/wp-content/uploads/2020/10/CBA_Logo_top_main.png
Buko
2017-02-01 15:34:56
2019-12-23 19:12:27
Sunday Wilde